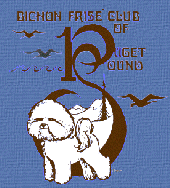 Bichon Frise Club of Puget Sound
How to Join the BFCPS
Membership applications may be obtained at any club meeting or by contacting the club secretary. A prospective member shall attend one club meeting before applying for membership.

Membership dues are payable when you join and each June.



Club Meetings
Members meet every 2 months in February, April, June (in conjunction with Bichons in the Park), August (at the Enumclaw All Breed Dog Show), October and December.

For specific date, time and place please email either the club secretary or the corresponding secretary.



Club Officers and Email Links
President Chuck Watts
Vice President John Hartquist
Secretary Sheri Kennedy
Treasurer Flo Nott
Corresponding Secretary: Don Seymour


Bichon Frise Rescue
We are dedicated to preserving the health, welfare and lives of the Purebred Bichon Frise. If you know of a dog that needs assistance, or if you are an owner who needs to find a new home for your dog, please contact the Bichon Frise Rescue. Our local contact is Sherry Watts at wetdogseight@earthlink.net
Bichons in the Park
Perhaps you have noticed that bichons readily know the difference between dogs and bichons. They seem to be able to spot (smell?) their own breed very quickly. They also seem to enjoy playing with other bichons.

To allow the dogs and their owners some 'family' time, the BFCPS sponsors a Bichon's Day at the Park each year. This is a fun day with a variety of contests including best costume, best dog trick, and longest tail. Everyone brings a brown bag lunch. After lunch the dogs and their people get to mingle.

This year the event is scheduled for June.



Annual Specialty
Each year the BFCPS sponsors a local specialty that provides a show case for Bichons and their owners. Information about this January event is finalized in August of each year.



BFCPS sponsored "B" and Fun Match
Each year the BFCPS sponsors an outdoor "B" match. This AKC sanctioned event allows dogs to get some 'ring' experience and lets club members learn from one another.

This year the event is scheduled for August.
If you have questions or comments about this web site please send mail to our webmaster.
Copyright © 2002 BFCPS
Last modified: February 05, 2003